Greater Impact
After 10 years of serving our community, we are asking, "What's next for Partners in Hope?" We believe God is leading us toward expansion beyond the Lake Travis region, moving us into new territory with a greater impact. Our goal is to share the principles He has taught us in building a relational ministry, engage with isolated neighbors, help churches mobilize their discipleship efforts, and develop Kingdom partnerships within the community.
Our growth areas include:
Consultation Services – guide other ministry organizations in addressing the problem of social isolation.
Nonprofit Development Support – help other communities replicate the ministry model created by Partners in Hope.
Internship Opportunities – immerse individuals in the Partners in Hope experience so they can share the ministry concept with their communities.
What Can You Do?
Learn about our Hope in Motion campaign by viewing this newsletter that announces our expansion into the Cedar Park/Leander area.
Volunteer so you can learn more about our programs.
Donate to help us move ahead with Greater Impact.
Partner with us — encourage your church, workplace, or community group to learn more through Executive Director Matt Peacock's book, Unexpected Connections. See below for more about this fascinating story!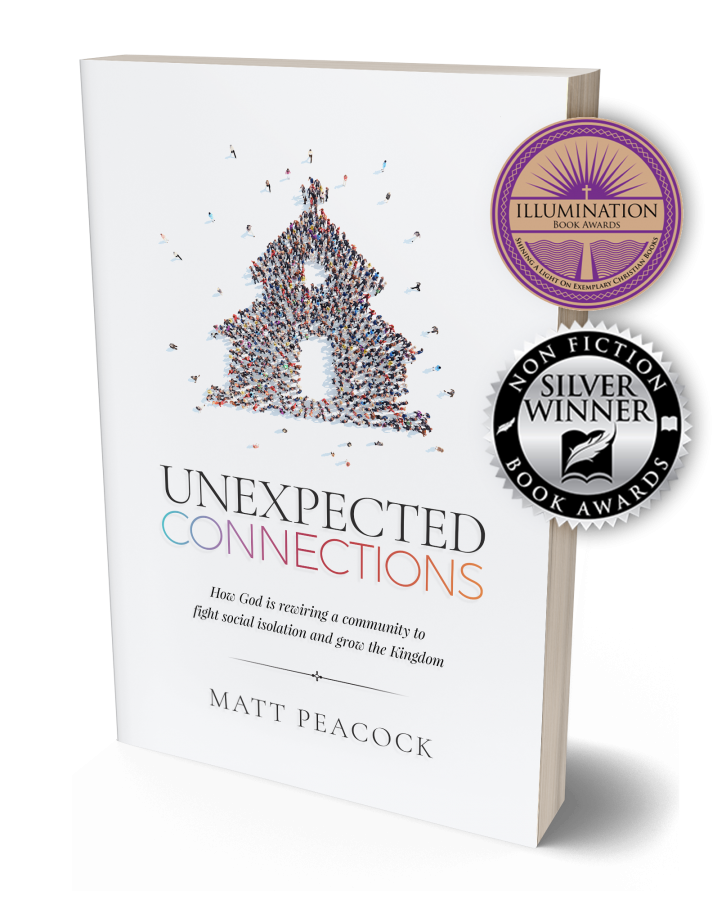 High-Impact Resource for Ministry
Unexpected Connections is about the epidemic of social isolation, the redemptive power of relationships, and God's perfect timing.
In this book, award-winning Author Matt Peacock details how the Lord led him and his missions-focused team on a fascinating journey to fight the plague of isolation in central Texas. But there was a big twist. No one could have predicted the actual destination.
If you're involved with church leadership, missions and outreach teams, a nonprofit ministry or any type of Christian organization, the messages in this book are designed for you.
This faith-filled tale will deliver inspiration and innovative strategies to help you elevate your own missions activities. Beyond that, it may forever change the way you look at community partnerships to serve those in need.
Packed with heartwarming stories, startling discoveries, and the jaw-dropping results of Kingdom-powered collaboration, Unexpected Connections is the book everyone involved in ministry really needs right now.
We are excited to announce that Unexpected Connections recently received two awards! It was recognized as a SILVER WINNER in the Nonfiction Book Awards sponsored by the Nonfiction Authors Association. This competition honors books that are "well-written and beautifully produced."
It was also honored with a BRONZE MEDAL in the 2021 Illumination Book Awards. With the motto, "Shining a Light on Exemplary Christian Books," the Illumination Book Awards are designed to honor the year's best new titles written and published with a Christian worldview.